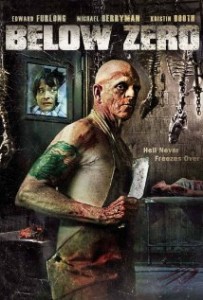 Info:
http://www.imdb.com/title/tt1641388/
Release Date:
2012
Genre:
Thriller
Stars:
Edward Furlong, Michael Berryman and Kristin Booth
Quality:
DVDRip
Encoder:
NaNo@Ganool
Source:
DVDRip Xvid AC3-UnKnOwN
Release Info:
NFO
Subtitle:
Indonesia, English (N/A)
Sinopsis:
Based on true events, BELOW ZERO is a thriller with a 'Fargo' feel. It is the story of 'Jack the Hack', a less than average, but once successful screenwriter who now faces writer's block. Desperate to meet a career-saving deadline and lock out the distractions of his troubled life, Jack arranges to be left alone and locked inside a meat cooler, with only vegetarian meals and his imagination to inspire him. As the temperature drops, the lines between reality and fiction blur, and Jack's script comes dangerously to life. Will he make the most important deadline of his career? Or is Jack 'just a hack'? While writing the script, the actual screenwriter and producer of BELOW ZERO, Signe Olynyk, arranged to have herself physically locked in the meat freezer of an abandoned, remote slaughterhouse. That's partly how this story developed. It was filmed at the same location.
===================================
Download Here :
Watch Trailer